Frequently Asked Questions
Is your packaging discreet?
Yes it is discreet. We use plain padded envelopes or boxes with our company name in the return address as follow :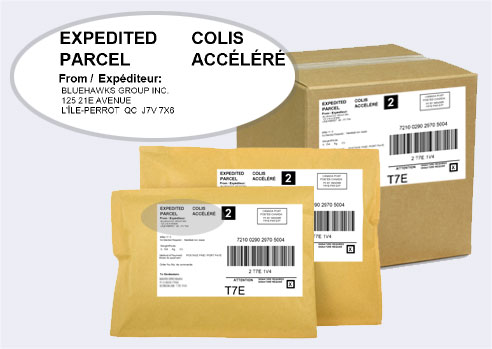 How can I pay for my order?
You can pay by credit card directly on our website that is 100% secure or pay using Paypal.
You can also pay with a Canada Post or bank money order or using the Canada Post Collect on Delivery (COD) service. We also accept e-transfer by email, which is equivalent to an Interac payment.
What will it say on my credit card statement?
Your credit card bill will simply have an entry for "Bluehawks - IC.CA", again no reference to condoms or other contraceptive related terms.
I don't have a credit card, is there another option I can use to make my payment?
We offer collect on delivery (COD). Collect on Delivery is a service by which the amount due is collected by Canada Post upon delivery, on our behalf. This service cost $7.25 + shipping fee, and is available only for the following shipping methods :
Xpresspost
Expedited Parcel
You can also pay by email e-transfer or by sending us a Canada Post or bank money draft to the address provided at checkout.
Is your site secure?
Yes it is. All your personal data are encrypted and your financial data are processed by Paypal, a well reconized provider meeting the highest standard for PCI compliance.
Where are you located?
Where are located in Valleyfield, a city located close to Montreal, QC, Canada.